L'acte gratuit
— Mel O'Callaghan
4th December, 2014 — 17th January, 2015
Press release
For her exhibition at Galerie Allen titled, L'acte gratuit, Mel O'Callaghan turns our attention towards the act of making (doing) itself. Each work is evidence of this act, the result of that act, and a mediation on the will that compels one to make (do). Installed in the gallery is a large-scale regent structure of connected espaliers, Framework, 2014. Closed on all sides excluding several entry and exit points, the structure looks like a lattice chamber. It's dormancy however is only short-lived as we, the audience, activate it by passing through. A transcendent bridge between ritual and art. Each espalier taken alone implies action, almost calls for it, the structure, defines it, a sportif Dan Graham pavilion that exposes the processes of perception and certain expectations in a quasi-functional space. Strengthening the artist's concept of ritual process, the wooden sequence doubles as a type of passage. As one passes through the threshold they become a performer and part of a larger work. One part of a communal experience.

Accompanying the structure of espaliers are a series of objects imbued with potential for activation. With Impression, 2014, the artist mounts what appear to be canvas crash matts to the gallery wall, forming a tableau in hues of utilitarian tones. Padding, rivets and ropes work like geometric abstractions, compositions that run with function. Each matt conjures physical trauma and the psychological state of one who may predict or prevent the action of crashing.

Protruding from a wall on individual mantels are twenty delicate ceramic forms, Foundation, 2014. Acquired during research into casting, each is a tool once used as a weight or counterbalance in the creation of a work of a master ceramicist. Each object provided the structure and foundation, support and balance, that was required during the forming of the object he desired. The forms of Foundation are uncannily similar to the work the artist was casting herself. As the unused results of another's process these chalky white casts are the by-product of the repetitive practice – a physical representation of the performative act. The sculptures achieve what in life we cannot - an end.

A new colour video work, L'acte gratuit, 2014, concludes the exhibition, giving a key to the other works. It hints at an action that is obviously gruelling and yet unseen. A male face, cropped-in tightly, appears and then exits a locked-off frame. Progressively we witness his mounting exhaustion as sweat appears upon his brow and his breath becomes shorter. A bell is heard off-screen and we discover that he is a boxer returning from his fight, reappearing in-frame even more depleted. Out of frame is the liminal space (the ring) where the protagonist undertakes his rite - an exhaustive dance that delivers him closer to pain and disintegration. We question his recurring return to the fray, his decision to undertake more physical pain, and wonder if he has received any illumination or are we witness only to his continual demise. Likewise the viewer also experiences this catharsis as he feels the boxers pain and imagines himself suffering.
Exhibition view
L'acte gratuit
4th December, 2014 — 17th January, 2015 , Galerie Allen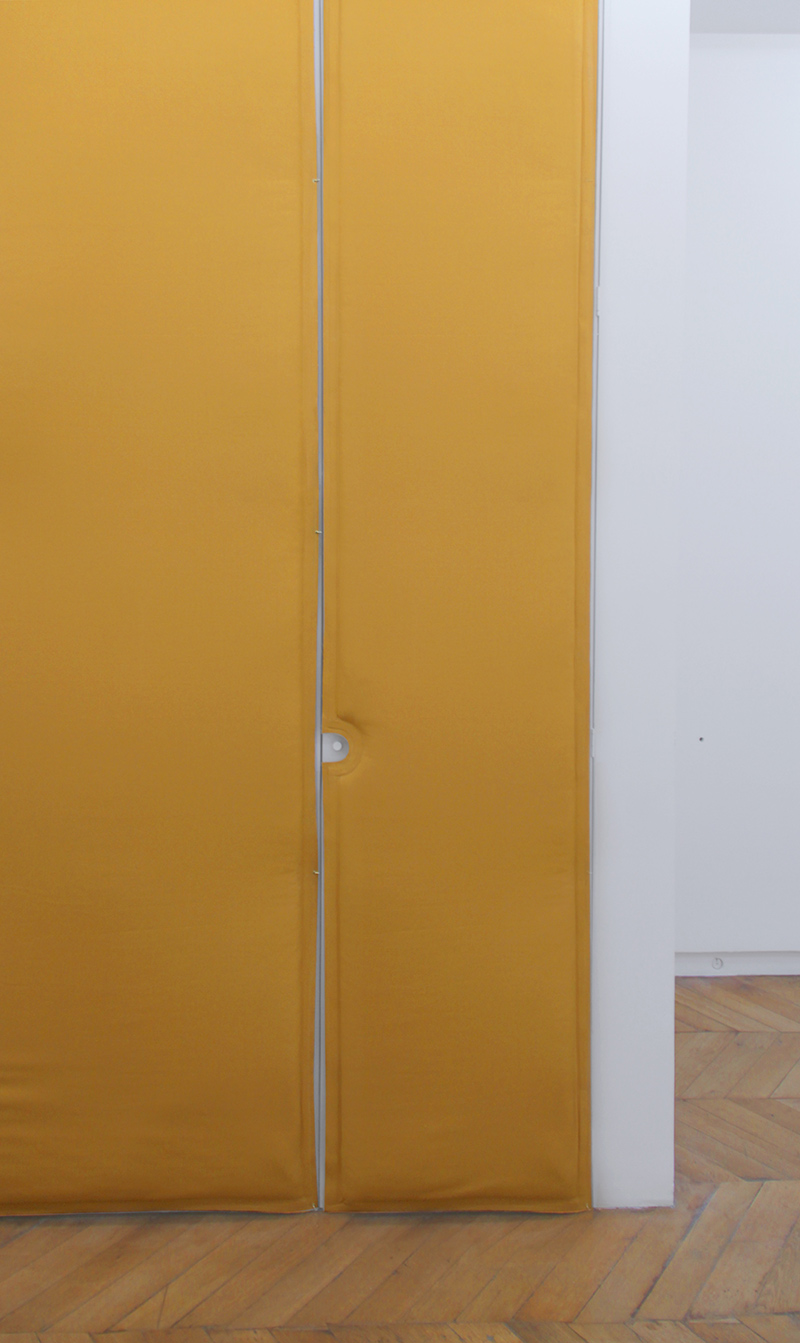 Exhibition view
L'acte gratuit
4th December, 2014 — 17th January, 2015 , Galerie Allen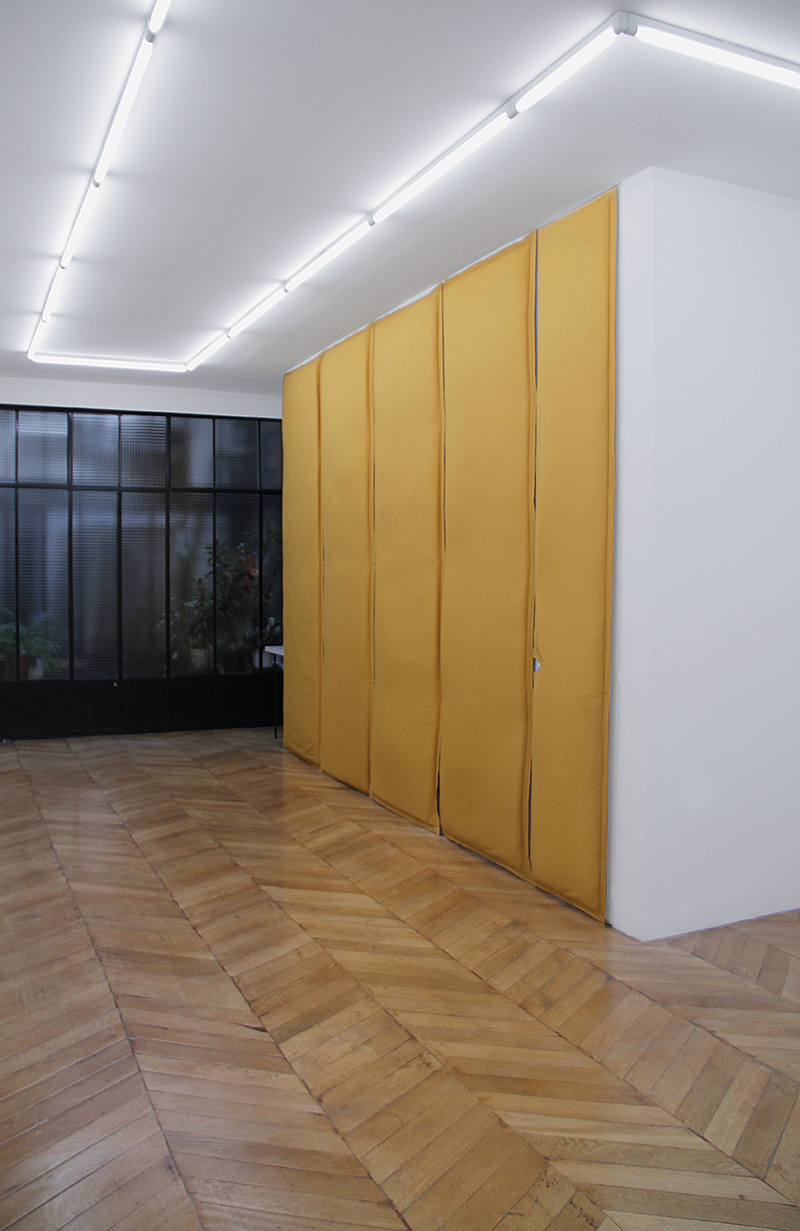 Exhibition view
L'acte gratuit
4th December, 2014 — 17th January, 2015 , Galerie Allen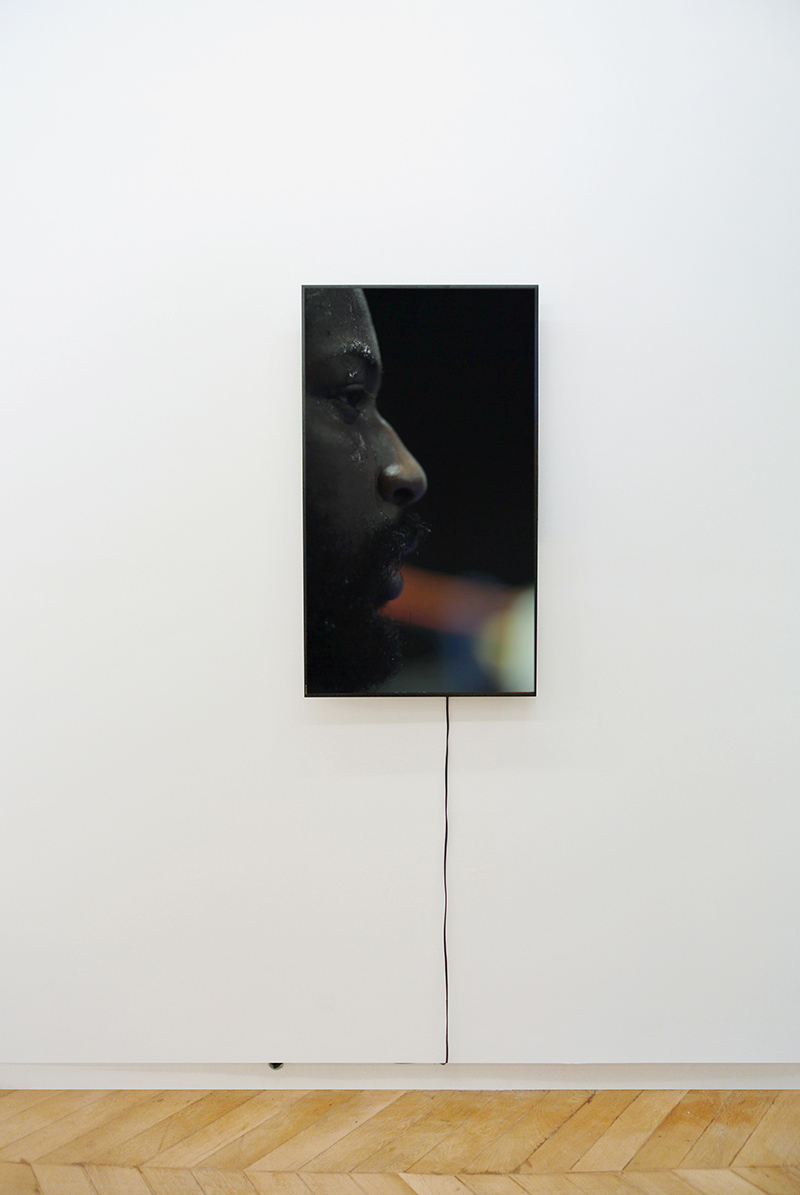 Exhibition view
L'acte gratuit
4th December, 2014 — 17th January, 2015 , Galerie Allen
Exhibition view
L'acte gratuit
4th December, 2014 — 17th January, 2015 , Galerie Allen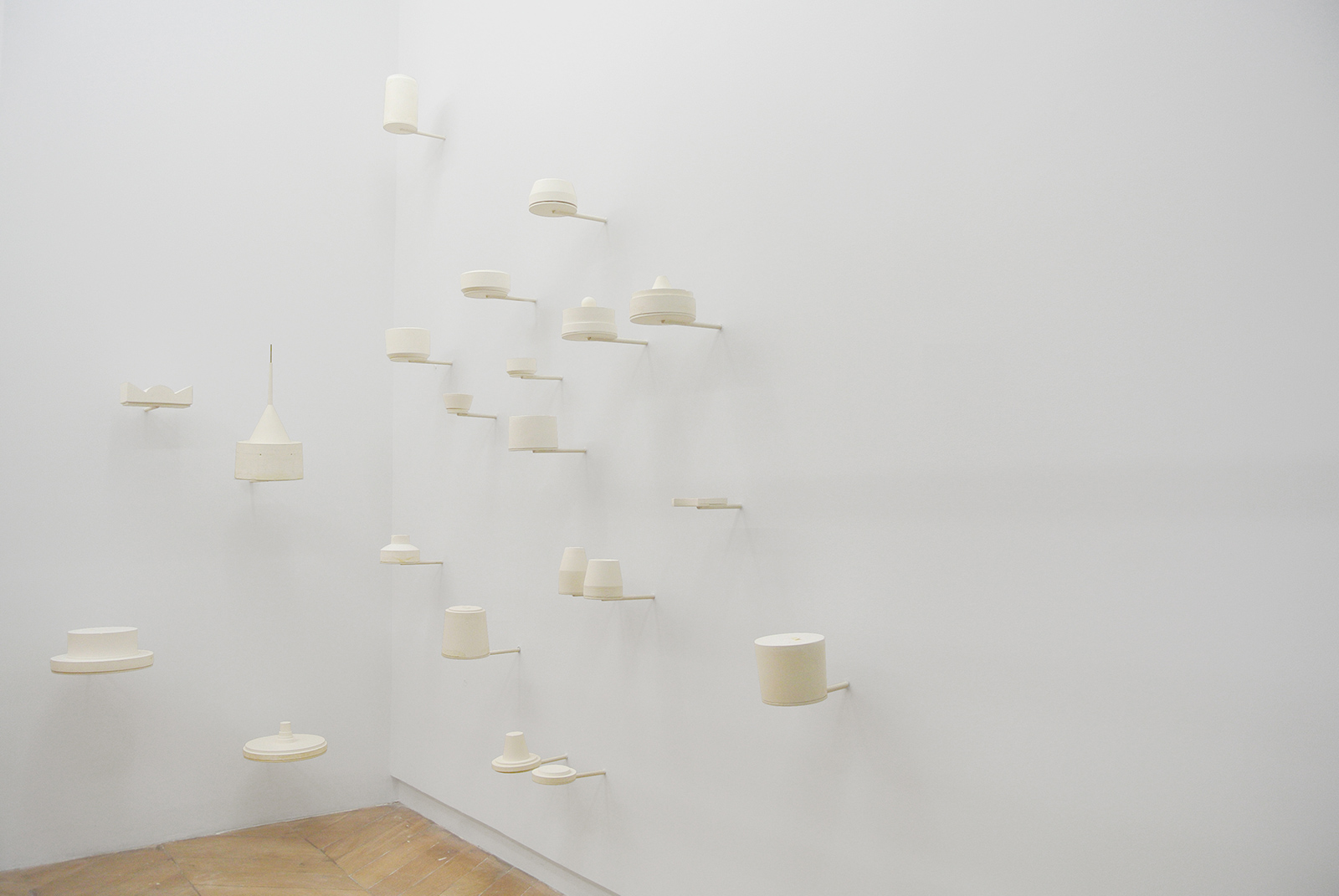 Exhibition view
L'acte gratuit
4th December, 2014 — 17th January, 2015 , Galerie Allen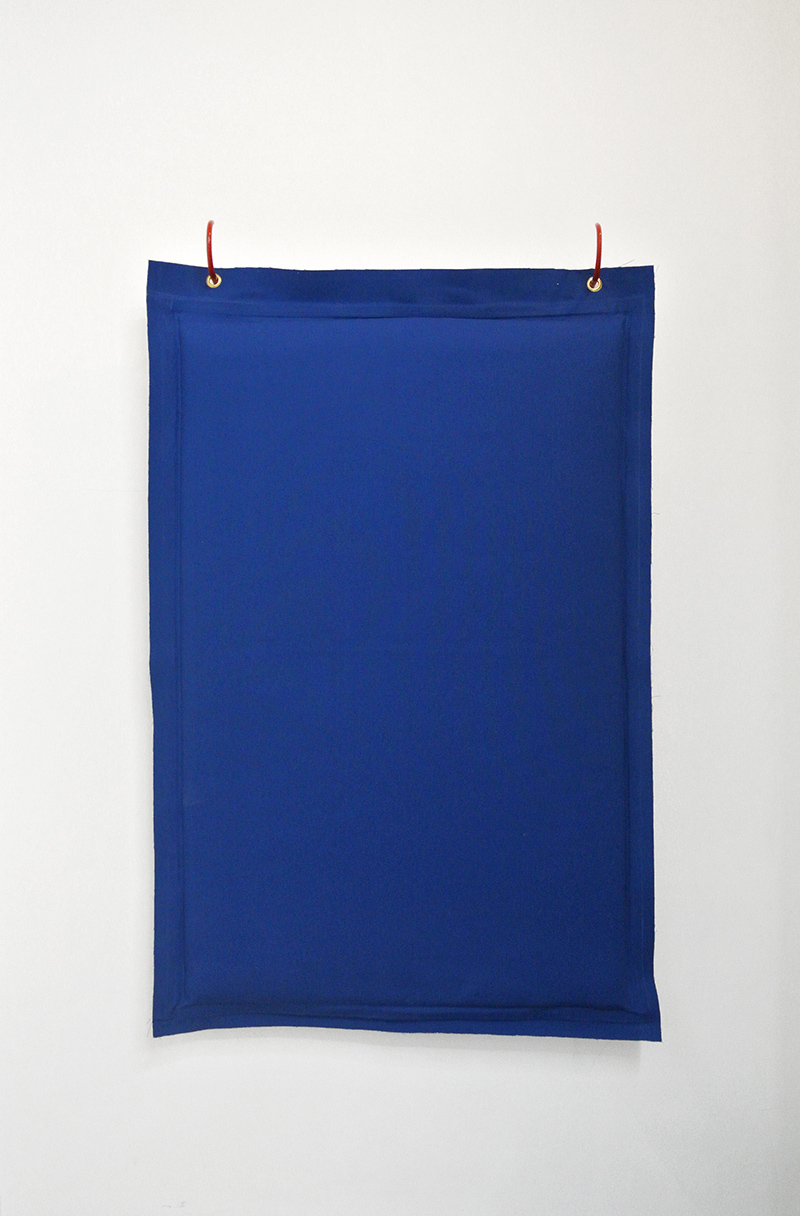 Mel O'Callaghan
Foundation V, 2014
plaster and powder coated steel
object: 11cm Ø x 8cm H. shelf 19cm L x 11cm Ø
courtesy the artist and Galerie Allen, Paris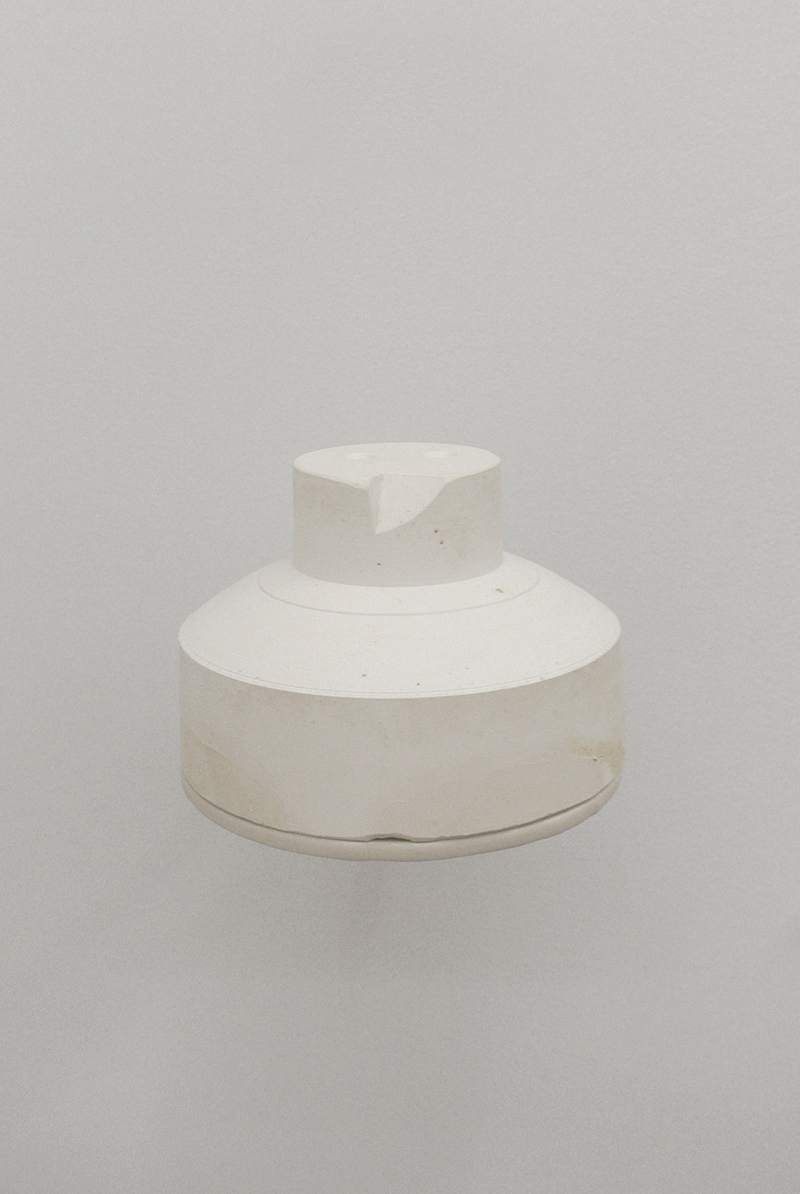 Mel O'Callaghan
Foundation II, 2014
plaster and powder coated steel
object: 17cm x 7cm x 6 cm. shelf 16cm x 17cm
courtesy the artist and Galerie Allen, Paris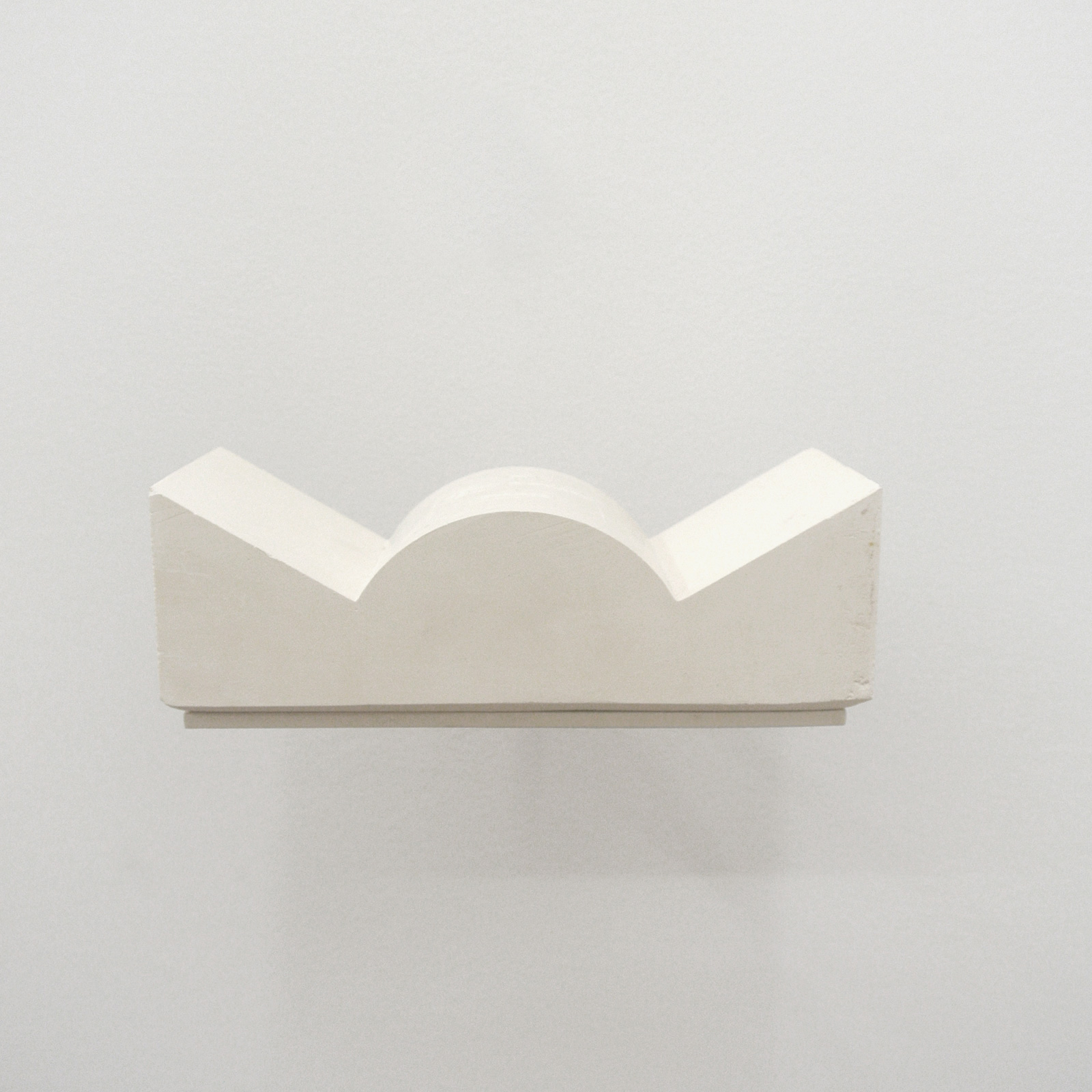 Mel O'Callaghan
Foundation I, 2014
plaster and powder coated steel
object: 24cm Ø x 10cm H. shelf 23cm L x 24cm Ø
courtesy the artist and Galerie Allen, Paris